This recipe could have affiliate links. For more information visit this link .
This post is also available in: Español
Today I'm going to tell you my method to infallibly make this magical liquid, the very famous and dreaded homemade aquafaba from chickpea liquid, which in recent years, has transformed vegan baking, taking it to highly professional levels and finally comparable to its non-vegan counterpart, for its ability to be whipped to meringue. But what is this popular aquafaba all about, how is it possible and what does it do? I will try to answer most of the questions you may have about this mysterious word, often mentioned on Youtube and in vegan recipes.
What is Aquafaba and what does it mean?
What is aquafaba and what does it do? It is a slightly thick, yellowish liquid, with a texture similar to egg white that has a certain amount of proteins released by cooking and soaking chickpeas, these proteins are enough to trap air when whipped vigorously and create the stable foam that we call meringue. Amazing, isn't it? It is probably the same foam that turns white during cooking floating on the surface that we must remove or the pot overflows and the kitchen becomes a mess (don't worry that by removing it, you are not taking away the effectiveness of the aquafaba).
In short, aquafaba can replace egg whites, where it is used for its power to be a mounting and moisturising agent with a small protein content that gives a small amount of elasticity.
For example:
Cookies, soletas, sighs and vegan biscuits
Vegan meringues
Vegan macarons (Yes, what you read)
Vegan pavlova
Vegan enriched bread (Vegan brioche bread, vegan crumb bread, pan dulce, conchas, vegan cinnamon rolls)
Dressings without egg
Marshmallows without egg or gelatin
Vegan nougat
Vegan royal icing
Cake frosting or vegan meringue buttercream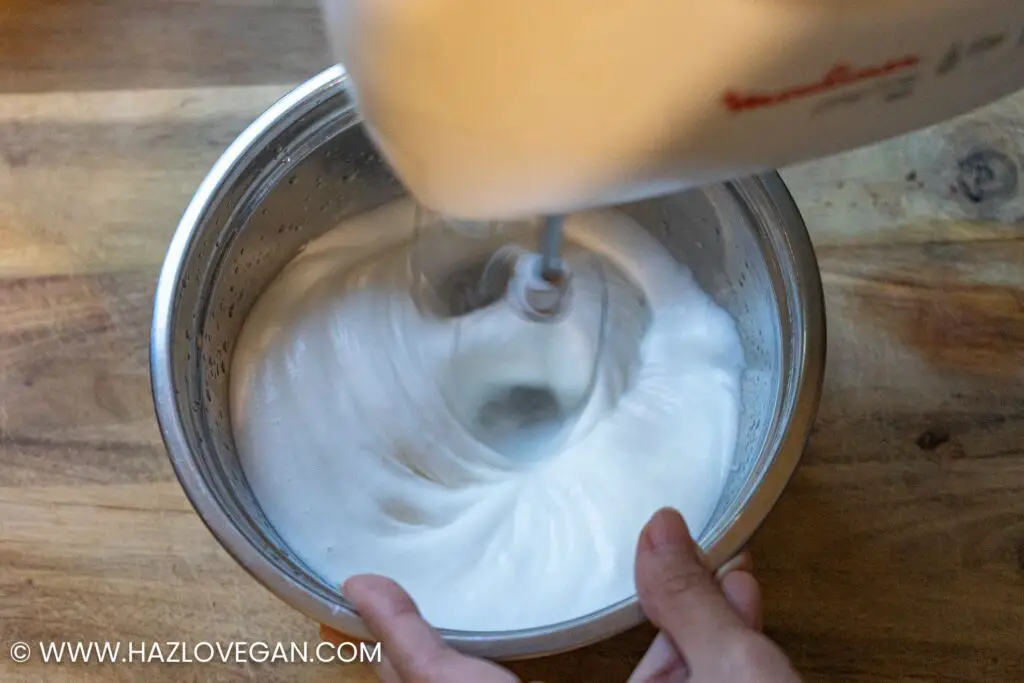 How do I make homemade aquafaba from chickpea liquid?
The quickest way to get aquafaba is straight from a can of chickpeas or white beans. Why does it work? The chickpeas are steamed at a low temperature for a long time and well, they are then immersed in their own cooking liquid inside the can, releasing even more protein into the liquid. Some people don't agree with its use, because they are wary of the use of harmful additives for preservation, but then I compare it to how harmful the egg industry can be and it goes away.
To be honest, the liquid in the can is a guaranteed success for most uses: mayonnaise, meringue, cakes. But the fact of constantly buying cans for this use does not seem to me to be a sustainable option, in some countries it is not even common; in Chile for example, I barely remember some pulses in tetrapak format, but it was more common to cook them from dry pulses.
Personally I prefer to do it at home, where I make sure I use ingredients I can pronounce, but it's a very personal decision, not everyone has the time and patience I have at this stage of my life.
And then there is our other sufferer, the environment. Because yes, sadly there are countries where recycling is still non-existent, a tin can ends up in the same place as a tetrapak, plastic or glass, which makes me cringe every time I open and throw away a container. In the vegan diet, the consumption of pulses is vital, with the cans that I would have to open per week to feed us, in 2 months I would build a castle. In Italy, aluminium is recycled but we like the idea of reducing rather than recycling and well, with this pandemic crisis, going out to the supermarket is a luxury that you can't afford very often.
You can read more in the next post, where I explain in depth what aquafaba is about and its uses.
Here is the recipe: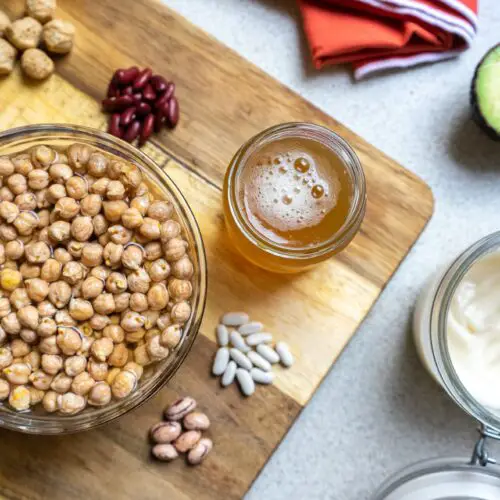 Homemade Aquafaba
Today I'm going to tell you about my method to make this magical liquid, the very famous and feared Aquafaba, in a homemade and infallible way, which in recent years has transformed vegan pastry, taking it to highly professional levels comparable to its non-vegan counterpart, for its ability to be whipped to make meringue.
Ingredients  
2

cups

soaked chickpeas

4

cups

water

4

g

salt
Instructions 
The night before, let the chickpeas soak for 6-8 hours or overnight, you can also do it first thing in the morning and cook them in the afternoon. It all depends on your schedules.

Rinse the soaked chickpeas, measure the amount in cups and add them to the pot, doubling the volume in water (e.g., 1 cup of chickpeas / 2 cups of water) in case of using salt, use just a little bit as it can be noticed in sweets preparations, and some people don't like that. You can salt the chickpeas later in the preparations.

If you use a pressure cooker, once the vent starts releasing steam, in 12 minutes the chickpeas will have the perfect consistency, then I uncover them and finish the cooking uncovered to evaporate some of the water. In a normal pot over medium heat it could take between 40 minutes to an hour depending on the freshness of the chickpeas. It's necessary to remove the white foam that forms on the surface or it can cause a mess. In a slow cooker, they can easily take 10 hours, but it's a sure way to skip the post-soaking step.

After cooking, let the chickpeas cool in their own water (which at this point should have been reduced to almost a cup) and then transfer them to a container with a lid and chill in the refrigerator overnight or several hours.

The next day, strain the chickpeas and use them in your recipes, hummus, curries, stews, vegan cheese, chickpea "tuna", etc. The remaining slightly thick golden liquid is your precious Aquafaba.

You can keep it in a jar for up to 4 days in the fridge, but a better option is to freezing it in the form of ice cubes to ensure you don't lose even a drop.
Notes
If you followed the recommended amount at this point you should have approximately 180-200 ml of Aquafaba which is equivalent in quantity to 5 medium egg whites with which you can make 1 kilo of vegan mayo without blinking. Here is the recipe for how I prepare mine.
Nutrition
Nutrition Facts
Homemade Aquafaba
Amount Per Serving
Calories 20
* Los valores porcentuales diarios se basan en una dieta de 2000 calorías.
Some photos of recipes where I used homemade aquafaba from chickpea liquid as an ingredient, to open your mind to the possibilities:
You may be interested in: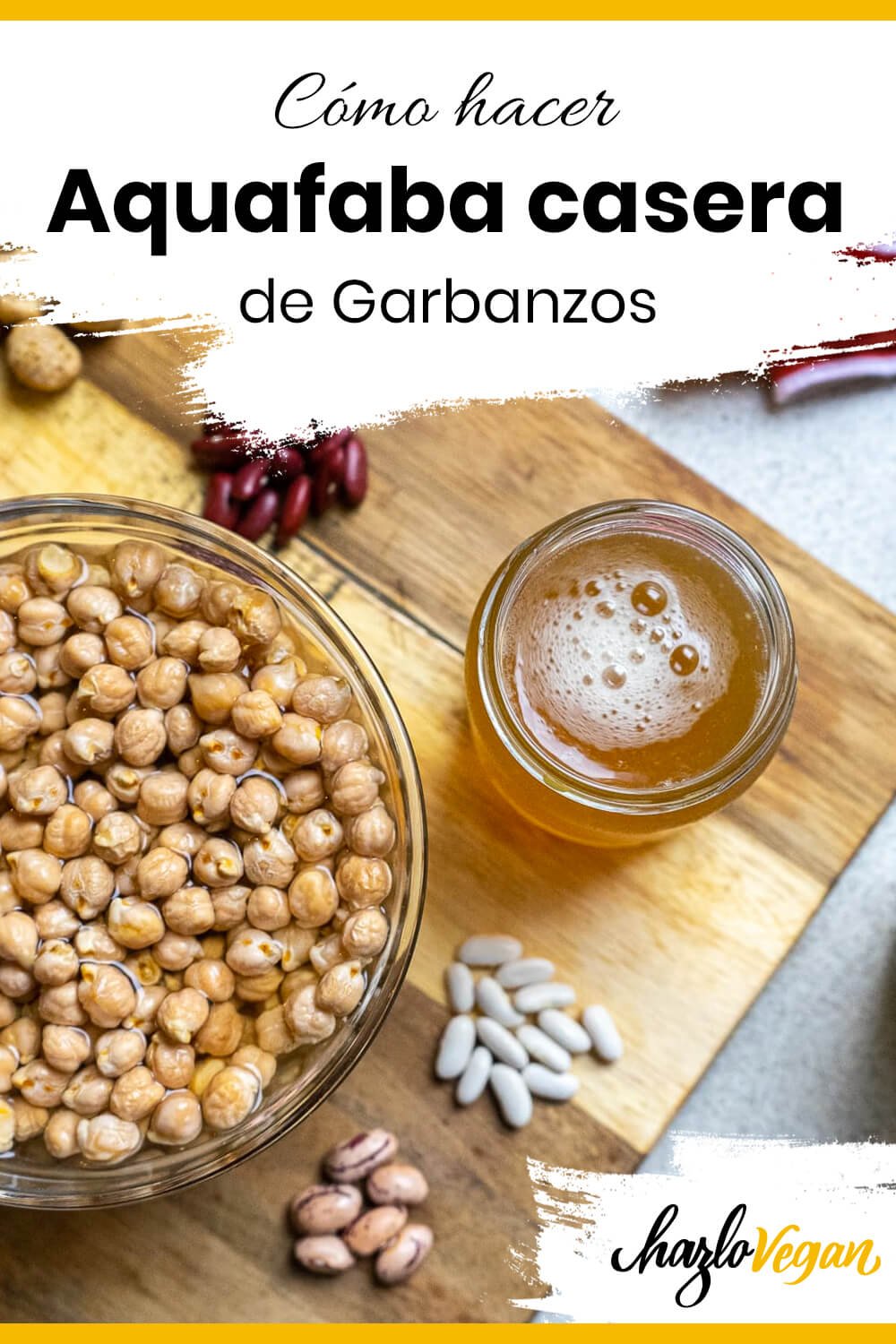 Thank you very much for reading Hazlo Vegan, if you want to be up to date with the recipes you can subscribe in the form on the right bar to receive them periodically in your mail, you can also comment and follow me on Instagram and Pinterest. If you make any of these recipes, don't forget to upload a photo to show the world what vegans eat, using the hashtag #hazlovegan and mentioning me as @hazlovegan to keep me updated.
This post is also available in: Español