This recipe could have affiliate links. For more information visit this link .
This post is also available in: Español
Since I've been writing lately about ingredient replacements in vegan cooking and I started with the egg, I want to tell you today how to make vegan hard boiled eggs. Yes, you read that right.
This is not a substitute, it's more of a vegan copy of the original, a version that is similar in appearance, taste and texture to the traditional hard boiled egg, if you are dedicated (I know you are, there's a reason you came here), I dare say, even nutritionally. I will also make one for the fried version, scrambled and omelette accordingly.
This is an experiment that takes a bit of work, but it's worth it in case you want to impress your vegan and non-vegan family or guests, because hey, the visual impact is great, if they put this on your plate in a restaurant you would send it back without tasting it, thinking they put egg on it by mistake! In my case I wanted to take it even further and give it the nutritional value that vegan hard boiled eggs should have.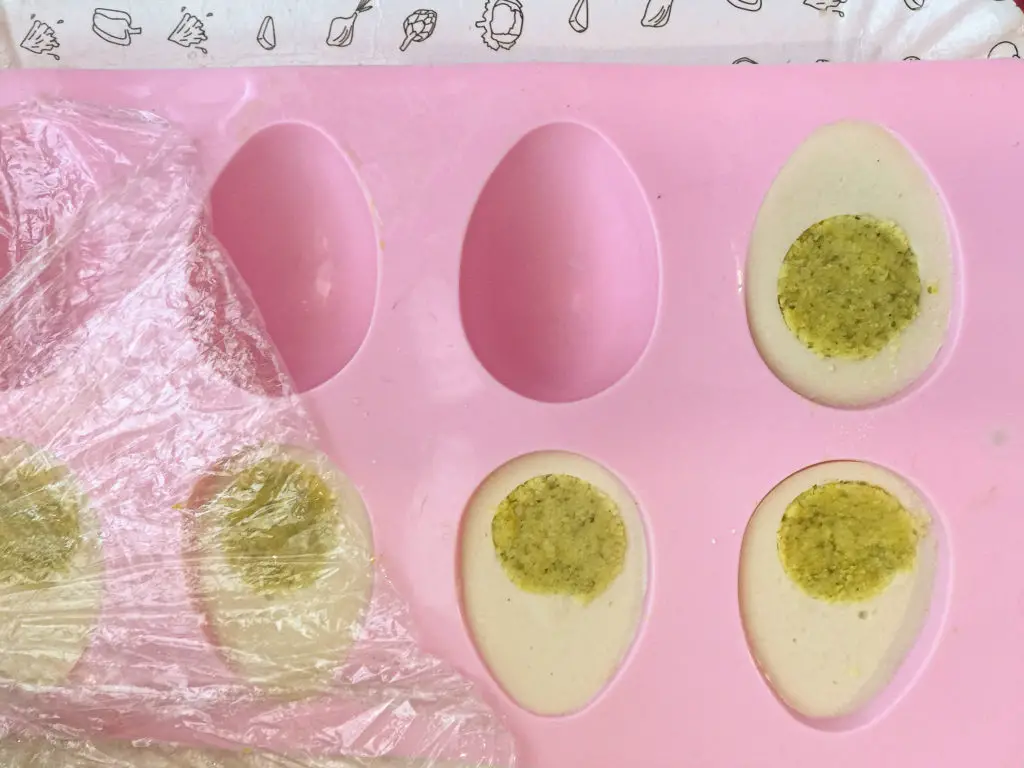 What ingredients will I need to make the vegan hard boiled eggs?
Let's do a breakdown of what we need to achieve this magic recipe:
Vegetal milk (ideally from soy or cashew)
Turmeric or yellow vegan food coloring
Pumpkin seeds also called pepitas
Refined unflavored coconut oil, vegan margarine or sunflower oil
Vegetable Milk
The vegetable milk to be used for this recipe does not interfere much in its texture and flavour (except if it is coconut milk). It is enough if it is white and neutral in flavour. If you want the recipe to have a better nutritional value, you can try my recipe for Fortified vegetable milk.
Feel free to use any of the ones you have on hand, not sweet or vanilla, please.
Agar agar, carrageenan (Kappa) or sodium alginate
Agar agar, like carrageenan and sodium alginate are gelatins derived from algae. They have similar characteristics, but they are activated and behave differently and the textures they impart are also different.
Why do I mention all 3 in this recipe?
Because you may have one on hand and not the other. The purpose of these ingredients is to curdle the milk to the point of firm custard to simulate the white of the vegan hard-boiled egg. Don't ask me if you can use unflavoured gelatine or colapez, because the former is extracted from cow's hooves and the latter from the swim bladders of certain fish, i.e. NOT VEGAN. So no.
Note: Agar agar and carrageenan return to a liquid state with heat. That is, the white of this vegan egg will not stay solid for long if you use it in hot or baked foods. In the empanadas for example it spilled out inside and you found yourself with the flavour mixed up. I hadn't anticipated that when I made this recipe, so I'm looking forward to trying the version with sodium alginate which holds the temperature better. The alginate is activated by calcium. Soy milk would be a good option to use. If you try it, would you let me know your experience?
Dried mashed potato flakes
Exactly what you read, flaked mashed potatoes that you can easily find in the supermarket and are usually kept as an emergency food in the cupboard. Make sure it doesn't have any dairy ingredients before you buy, although it's usually just dehydrated potatoes with turmeric and an anti-lump agent.
You can also use homemade mashed potatoes, but they would have to be very, very dry. Maybe mash a steamed or baked potato with a fork? I'll leave that to you.
We'll use this as the base for our yolk, that texture that made you gag when you ate a whole one in one bite (I've been told, I didn't do that sort of thing ? how do they think of it).
Nutritional elevation
Optional, and not vital. To give a little depth of flavour to the yolk. The obsession with achieving umami, which is something like taste bud orgasm. Pretend I didn't say that.
Turmeric or yellow vegan colouring
This is for colour, also not vital. Turmeric has a slight flavour that is noticeable to me, I prefer to use a little vegan colouring.
Pumpkin seeds also called pepitas
They are the greenish, flat seeds when they come peeled, they contain omega 3 and fibre, we will use them raw, without toasting, this will give an incredible touch to the yolk of the vegan hard boiled egg, not to be believed. I recommend not omitting them.
Flavourless refined coconut oil, vegan margarine or sunflower oil
This ingredient will give the egg white a creamy touch and is used sparingly, it will also help the yolk to set better when it cools.
Black salt (kala namak)
Need an introduction? You may not be familiar with it, but you have certainly seen it mentioned, it is a salt with a strong sulphurous taste caused by the sulphur compounds it contains. Black salt is so named because of its pinkish-grey colour, which is due to its volcanic origin. It has less salting power than normal salt, but has the unmistakable smell and taste of egg. It is worth looking for. It is sprinkled at the end and during preparation.
Here is the recipe: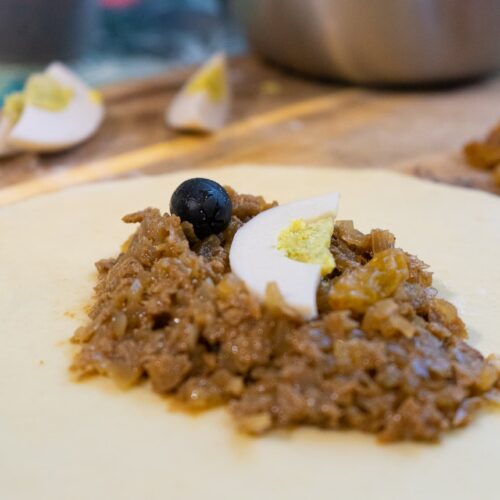 Vegan hard boiled eggs
Today I want to tell you how to make vegan hard boiled eggs, a version that is similar in appearance, taste and texture to the traditional hard boiled egg.
Equipment
Pot

Egg shaped baking mould

Fruit Ball Spoon
Ingredients  
Clara
500

ml

Vegetable milk (soy or cashew)

2

cdtas.

Agar agar

powder

1/8

cdta.

Black salt (kala namak)
Yema
1/3

taza

Instant Mashed Potatoes Flakes

2

cdas

Peeled pumpkin seeds

finely processed

1

cda

Refined coconut oil or sunflower oil

2

cdas

Nutritional yeast

2

cdas

Boiling water

1/4

cdita

Turmeric or vegan yellow colouring

1/8

cdita

Black salt (kala namak)
Instructions 
Egg white preparation
In a measuring cup, dissolve the agar agar in 100 ml of vegetable milk, bring to a saucepan and heat over medium heat until it activates and begins to thicken the mixture, about 5 minutes. Add the remaining milk and stir well, bring to a boil for a further 2 minutes. Turn off the heat and add the black salt (kala namak). The mixture will remain liquid, it will curdle only when it cools down.

Fill the egg-shaped moulds in halves (you can use chocolate moulds, but be careful not to pour the mixture too hot) if they are too small, they will be like vegan quail eggs, it all depends on what you have on hand and your patience. Bear in mind that a medium egg half is about 30 ml, so you can calculate how many you will get. There should be 16 halves or the equivalent of 8 whole eggs.

Leave to cool and take to the refrigerator to finish curdling.
Yolk Preparation
Assembly of the egg
Take the egg whites out of the refrigerator, and without removing them from the mould, hollow out the halves in the centre leaving the round groove where you will add the yolk. This takes a bit of skill, but with a little patience you can do it.

Take a teaspoon of the yolk mixture and fill the groove, pressing it down to make it compact. Sprinkle more black salt on the surface.

At this point you can decide whether to join the two halves together and use them split. To join them together, dissolve 1/4 tsp. agar in 1/4 cup of water and microwave for a few seconds, use this warm mixture as glue and square off the two halves. You won't believe it, you've just created vegan hard boiled eggs 100% free of animal suffering.
Notes
You can keep whole and halved eggs, covered, for up to 4 days in the refrigerator, you should be able to freeze them without any problems.
Nutrition
Nutrition Facts
Vegan hard boiled eggs
Amount Per Serving
Calories 80
* Los valores porcentuales diarios se basan en una dieta de 2000 calorías.
And that's it, you have your vegan hard boiled eggs, ready to enjoy. With the little circles you took out of the egg white and some leftover yolk, you can make a vegan hard-boiled egg paste with a bit of Vegan aquafaba mayo, it goes great on breakfast bread.
Here are some photos of recipes where you can use vegan hard boiled eggs to surprise your family: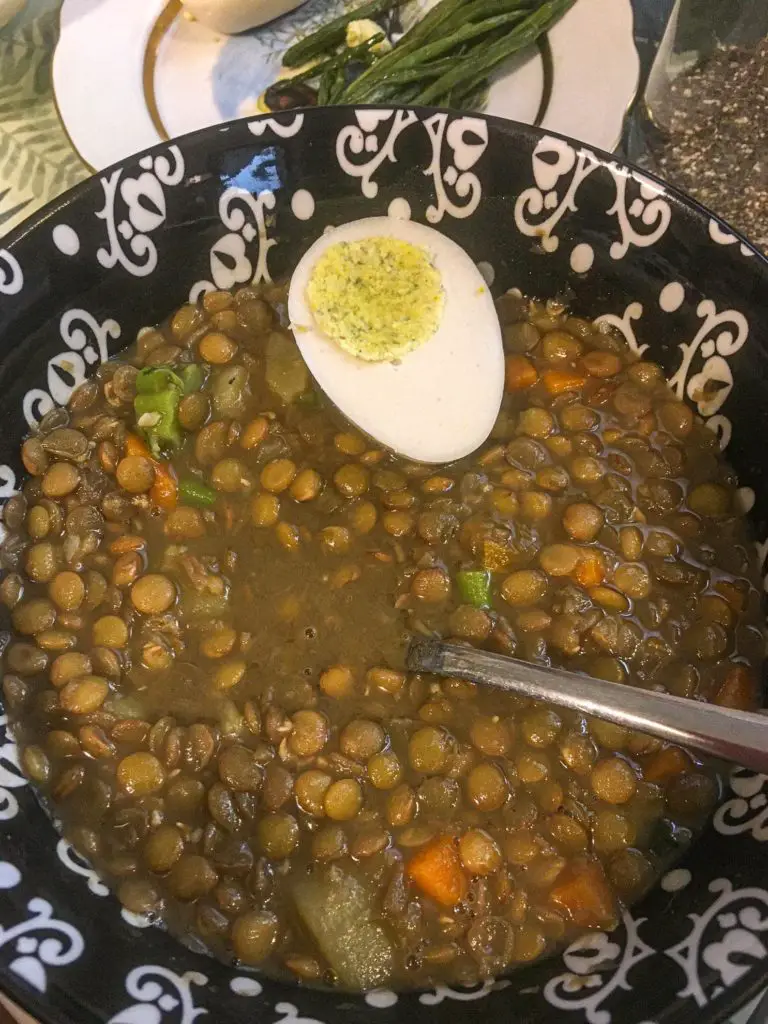 To see more types of egg substitutes in your preparations, I recommend this post that explains it in detail:
7 Ways to substitute eggs in vegan cooking
If you have any questions, leave them in the comments.
---
Thank you very much for reading Hazlo Vegan, if you want to be up to date with the recipes you can subscribe in the form on the right bar to receive them periodically in your mail, you can also comment and follow me on Instagram and Pinterest. If you make any of these recipes, don't forget to upload a photo to show the world what vegans eat, using the hashtag #hazlovegan and mentioning me as @hazlovegan to keep me updated.
This post is also available in: Español