This recipe could have affiliate links. For more information visit this link .
This post is also available in: Español
This vegan cinnamon rolls wreath is a sweet bread that I decided I deserved for this Three Kings Day, and although I know that I upload it very late, the truth is that I know that any time of the year is perfect when it comes to sweet bread. It occurred to me because in my family we used to buy Rosca de Reyes in Ecuador, which after all is another rolled type of sweet bread. Why not combine that tradition with the irrepressible craving I always have to eat cinnamon rolls?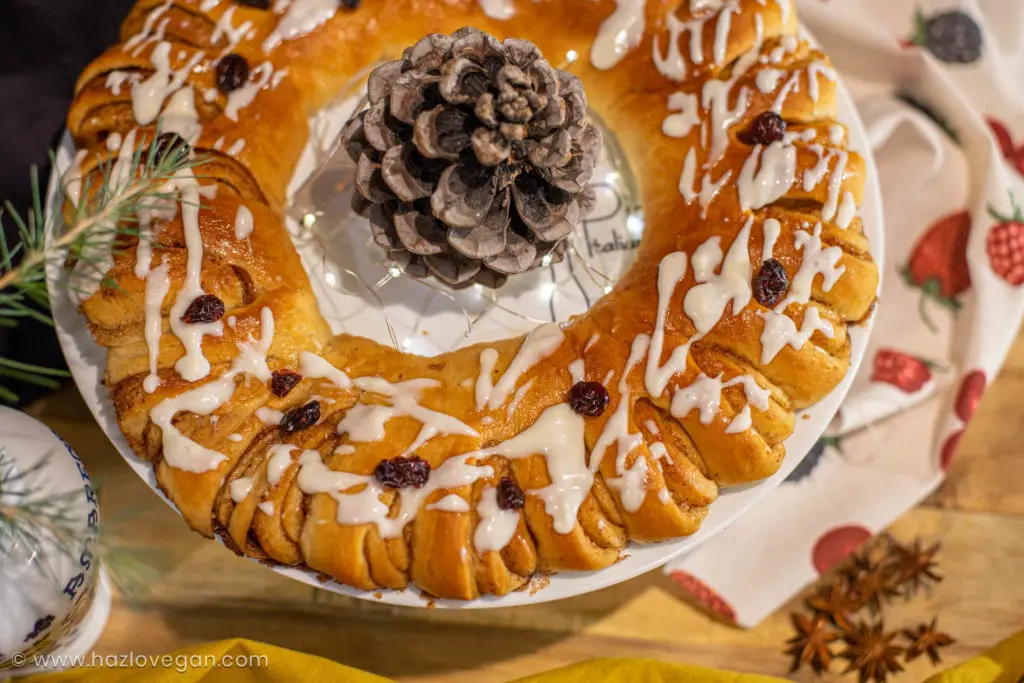 This delicious recipe, prepared with Water roux, is the secret that my sweet bread has a unique softness that lasts longer. Since there are many vegan or non-vegan cinnamon roll recipes that keep their softness only while freshly baked and then turn dry and crumbly.
I needed to create a recipe that would bring together the best techniques for smoothness and quality to share, otherwise it would add to the list of millions of equal recipes for vegan cinnamon rolls that we find on the internet. And I refuse.
¿What is a vegan cinnamon rolls wreath?
It is a delicious dough of sweet bread or brioche , rolled with a margarine, sugar and cinnamon paste that form a spiral inside, of an incredible softness and comforting flavor, ideal for parties, celebrations, or for any day of life, actually. Like all the recipes in this blog, this recipe does not contain animal ingredients, therefore it is dairy and lactose free, egg free, honey free and gelatin free.
What makes this recipe different from regular cinnamon rolls is that they are cut differently to form a wreath or crown, and served to the table with an marvelous appearance. Here is an example: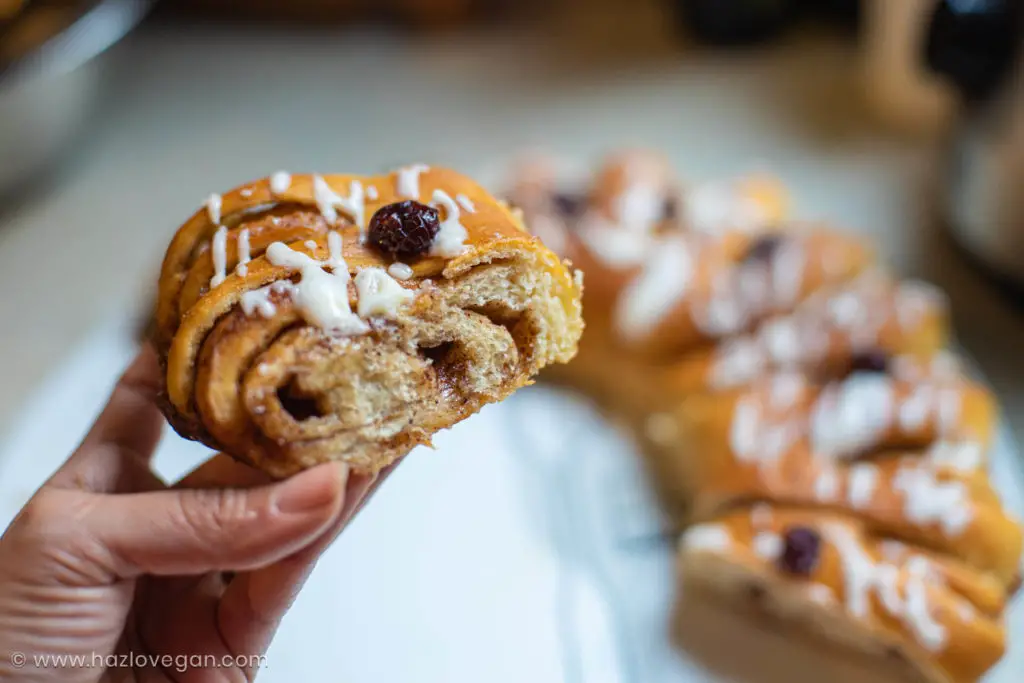 With this recipe you get two vegan cinnamon rolls wreath, or in this case a large wreath (60% of the dough) and a smaller braid (40% of the dough), which is prepared with exactly the same dough and filling, but with different presentation.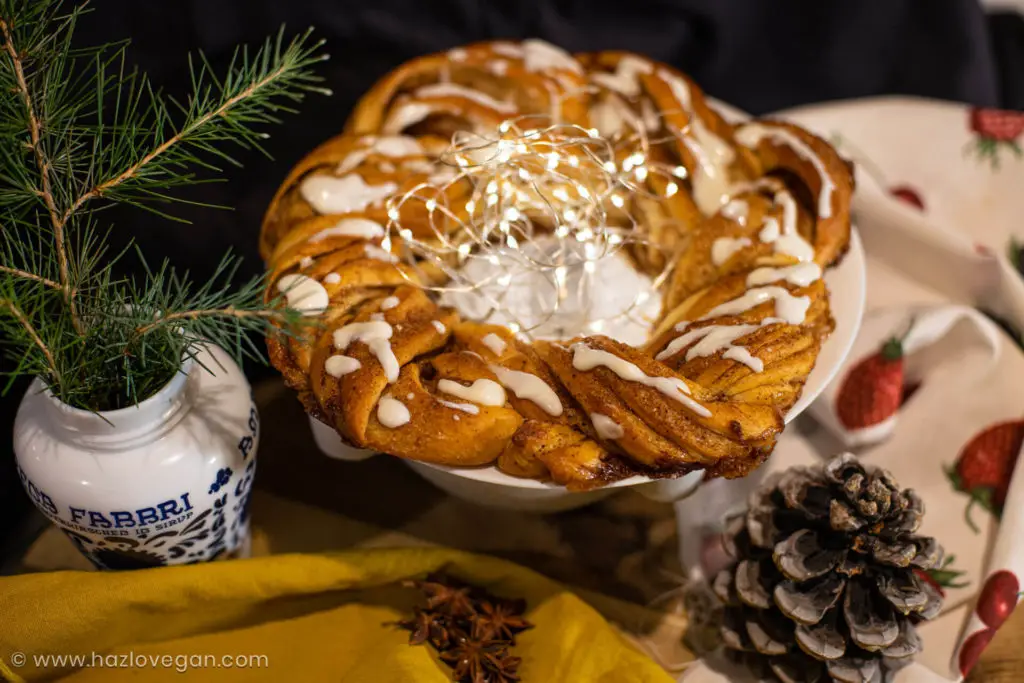 These are the steps to form the braided wreath: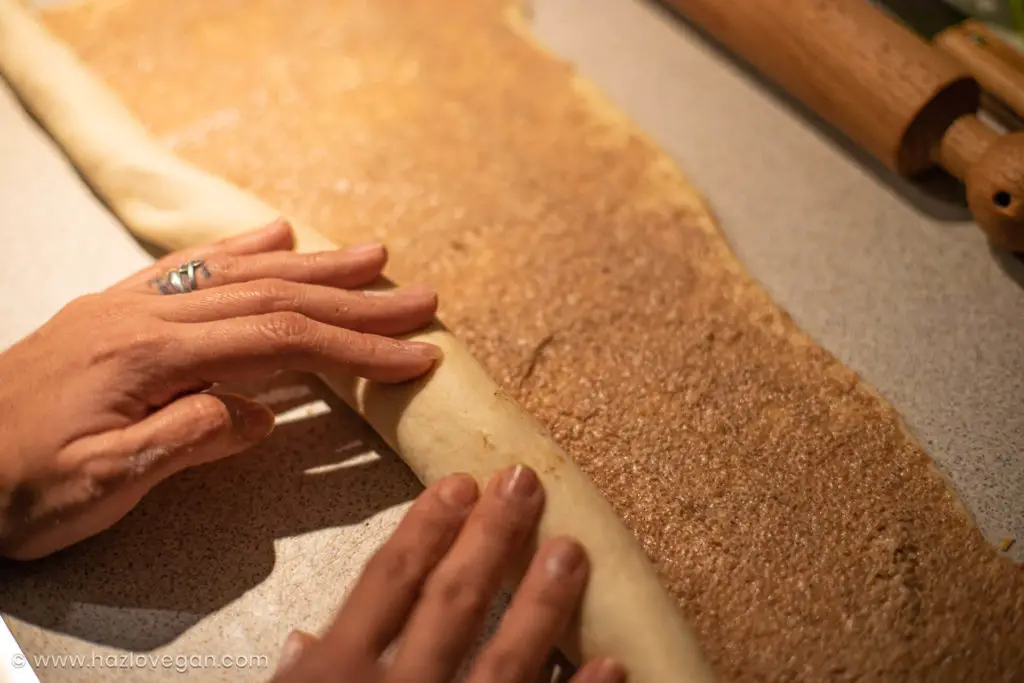 Subsequently the roll is cut in half lengthwise and with this two strands are braided into a circular thread: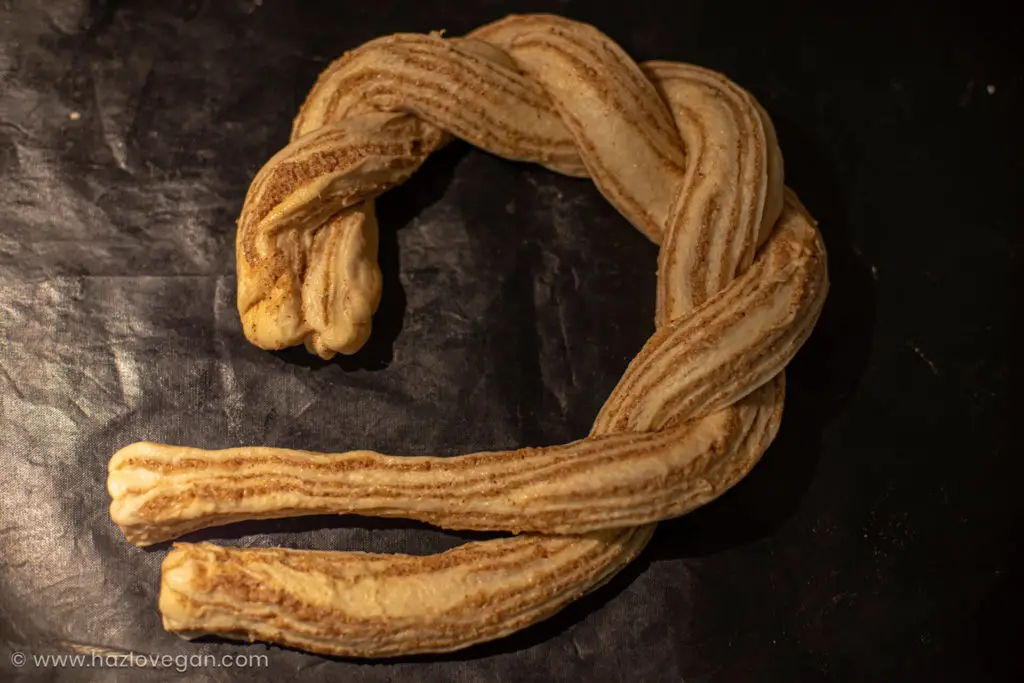 This vegan cinnamon rolls wreath is:
100% vegan, it does not contain ingredients that lead to animal suffering of any kind.
Sweet and comforting
With a softness that lasts longer
Addictive, you can hardly stop eating it. This is a warning.
What ingredients do I need to make the vegan

cinnamon rolls wreath?

The ingredients for this sweet bread are not very complex to obtain, although I will include ingredients that gave me a perfect result that are a little more difficult to find, they can be omitted, giving a good result anyway. I will always provide a more available alternative:
Bread flour (strong flour)
Sugar
Dry or fresh yeast
Aquafaba based egg replacement
Sunflower oil
Margarine, Cinnamon and brown sugar
Vanillin or vanilla essence
Salt
Bread flour (strong flour)
The flour to prepare vegan cinnamon rolls requires a higher percentage of protein. In Italy fine flour is used (00 type) but the manitoba type, that is, with greater strength, this is because the fine ground flour facilitates the leavening and achieves a larger volume, but for this to be maintained it needs a stable crumb web, or it could easily collapse.
You can find my recipe to reinforce your plain flour here.
If your flour contains 12% or 13% protein, it is enough for this recipe. If it contains 9% or 10%, you should follow my recipe to reinforce it with wheat gluten.
Sugar
This recipe has more sugar content than a traditional brioche, it is very sweet, at least that is how I prefer it. Pretty much any granulated sugar will work, just make sure it's vegan and not treated with bone char for whitening.
You can also use unrefined whole sugar, or coconut sugar, why not? It will darken the dough a bit but if you have these vegan ingredients in your pantry, using them is the best decision.
Dry or fresh yeast
I use dry yeast in all my recipes, as it has a much longer shelf life, is practical and more manageable. The ratio of dry yeast versus fresh block yeast is 1:3, 3 grams of traditional yeast equals one gram of dry yeast.
That is why the 10g sachets are equivalent to a 30g block of traditional yeast, which is the ration to rise one kilo of flour.
Please check that your yeast has not expired, that is a death sentence for all types of dough. Sometimes dry yeast loses strength after being open for a while. Don't increase their amount to compensate, get a new envelope or block. You don't want to waste your valuable work.
Aquafaba based egg replacement
To replace the egg in this recipe we will use our beloved Aquafaba (See recipe here) with potato starch and a few drops of yellow food coloring or turmeric if you prefer natural colors, although I avoid it because it provides a slight flavor that I do not like too much.
I also use a couple more ingredients that I feel help create structure in the recipe which are xanthan gum (xantham gum) and soy protein isolate. They are optional and none will prevent it from working successfully, as the water roux replaces the function of eggs in recipes quite well.
Sunflower oil
In this recipe we will simply use Sunflower Oil as a fatty element. I've gotten softer results on panettone doughs using oil than margarine. So it was the ingredient of choice this time. In addition, the filling contains margarine, where it is really important to use a solid fat, so that it does not melt and leaks from the dough insides during baking.
Block margarine, Cinnamon and brown sugar
This ingredient will serve to form a paste with sugar and cinnamon that remains inside the roll, leaving a defined and attractive spiral. You can try using coconut oil with a little more flour to help it stick to the dough.
Powdered cinnamon is the main ingredient in this recipe, along with brown sugar that has a more caramel flavor, will create the perfect filling color for vegan cinnamon rolls.
In replacement of cinnamon, you can use cocoa powder and you will get chocolate rolls. Sounds like a plan.
Vanilla extract
I am not too demanding with the vanilla flavor, if you are a gourmet fan, and you want to use all the fancy resources you have on hand, use seeds of the vanilla bean from Madagascar. If for you, vanilla is vanilla, use the extract you have on hand. In this recipe I used powdered vanillin and it was amazing.
Salt
Like all brioche bread dough, it needs to contain salt to bring out the flavor of the dough against the sweetness of the filling. If you miss it, the taste will be quite bland.
Now the recipe!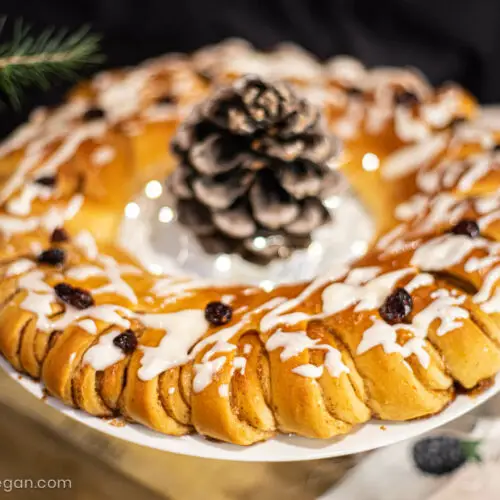 Vegan cinnamon Rolls wreath
This vegan cinnamon rolls wreath is a delicious sweet brioche bread, rolled with a margarine, sugar and cinnamon paste that form a spiral inside, with an incredible softness and comforting flavor, ideal for parties and celebrations for its elegant presentation in the form of a three king's wreath.
Ingredients  
Water roux
25

g

Bread flour

125

g

water
Final Dough
475

g

bread flour

8

g

dry yeast

80

g

vegan white sugar

6

g

salt

60

g

sunflower oil

120

ml

warm water

1

g

vanilla essence

5

g

barley malt

Opcional
Cinnamon filling
125

g

block margarine

200

g

brown sugar

1

tbsp

cinnamon powder

1

tbsp

wheat flour
Vegan cream cheese icing
50

ml

vegan whipping cream

1

cda

lemon juice

1

cda

vegan margarine spread

80

gr

icing sugar
Instructions 
Water roux
In a small saucepan, add 25 g of flour and then 125 g of cold water, turn on the heat and stir constantly so that no lumps form, when the mixture begins to thicken (approximately 2 minutes) to the point of Bechamel sauce, remove from the heat and let cool covered with cling film so that it does not form a crust. Chill in the fridge for an hour.
Egg replacer
Mix the starch with the protein and xantham gum, slowly add the aquafaba little by little to incorporate without forming lumps, you will obtain a slightly thick yellow mixture, which you will use as an egg replacer in this recipe.
Final Dough
In a large bowl add 475 g of bread flour, sugar, vanillin, dry yeast and incorporate. Add the chilled water roux, the egg replacer and lukewarm water in the center little by little until all is incorporated. When the flour has absorbed the liquid you can add the salt and sunflower oil.

Incorporate the ingredients well, transfer to the work counter and begin to knead vigorously until the dough stops sticking to the surface and your hands, and its surface is smooth, approximately 15 to 20 minutes. If you have an electric mixer you can knead at medium speed for 10 minutes until it comes off the bowl and is completely smooth.

Form a ball, return to the lightly oiled bowl and let it rest until it triples its volume in a warm place, approximately 1 hour and a half, depending on the temperature (ideally 24º-28º C).

In a hand mixer, mix margarine together with brown sugar and cinnamon. Add the flour and beat until you get a spreadable paste. Reserve.

After the resting time, degas the dough with your fingers and divide it into 2 equal parts. Roll out a part of the dough to obtain a rectangle of approximately 60 x 30 cm, cover the entire rectangle with the sugar and margarine mixture, spreading with a spatula until the edges.

Roll the rectangle up the longest part, trying to make the roll as tight as possible and well sealed at the end.

Later with a sharp knife or kitchen scissors make cuts 3 cm apart without reaching the end so that they are attached by a portion of dough.

Twist each cut so the cinnamon spiral is facing up, and it looks like a fan.Shape the second wreath on another tray.
Vegan Cream cheese icing
Mix or whisk the glaze ingredients, it should be creamy but runny. Glaze the wreaths when warm, not hot.
Notes
This wreath is ideal to be consumed warm, so you can warm it for a few seconds in the microwave or oven. The water roux helps this dough stay fresh and soft for longer, but if you want to keep the fresh-baked texture for more days or even weeks, you can portion it and freeze it in sealable plastic bags, and then take it out little by little to warm up in the oven or microwave so you will have fresh sweet bread at any time.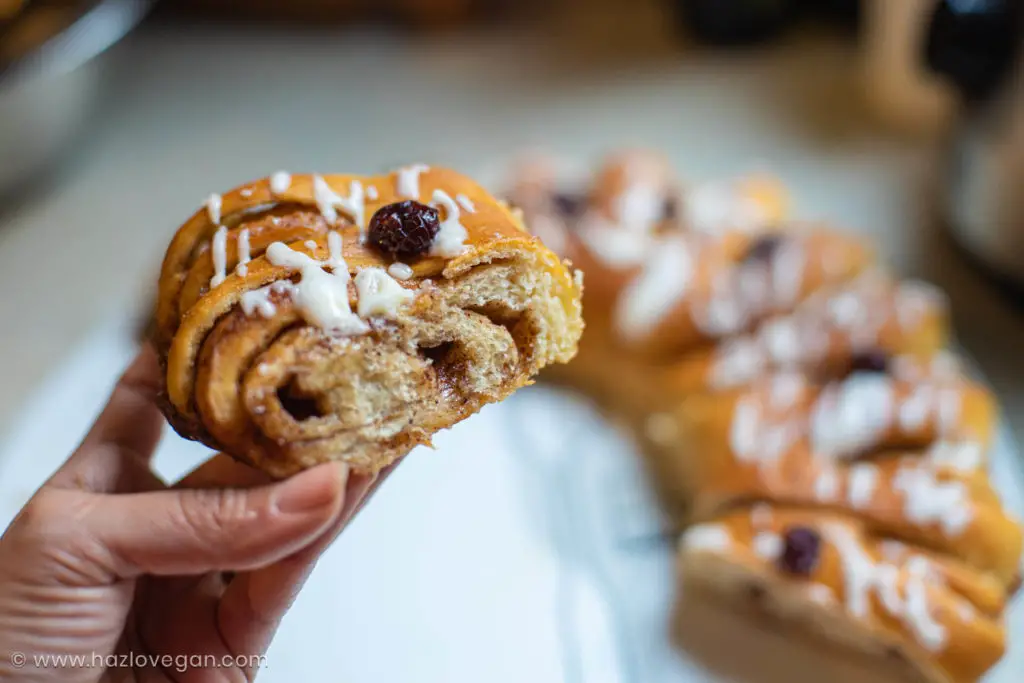 Nutrition
Nutrition Facts
Vegan cinnamon Rolls wreath
Amount Per Serving
Calories 325
Calories from Fat 108
% Daily Value*
Fat 12g18%
Sodium 247mg11%
Potassium 69mg2%
Carbohydrates 50g17%
Protein 5g10%
Vitamin A 298IU6%
Calcium 19mg2%
Iron 1mg6%
* Los valores porcentuales diarios se basan en una dieta de 2000 calorías.
Calories:
325
kcal
Carbohydrates:
50
g
Protein:
5
g
Fat:
12
g
Saturated Fat:
2
g
Sodium:
247
mg
Potassium:
69
mg
Fiber:
1
g
Sugar:
24
g
Vitamin A:
298
IU
Calcium:
19
mg
Iron:
1
mg
You may also like: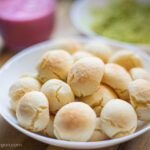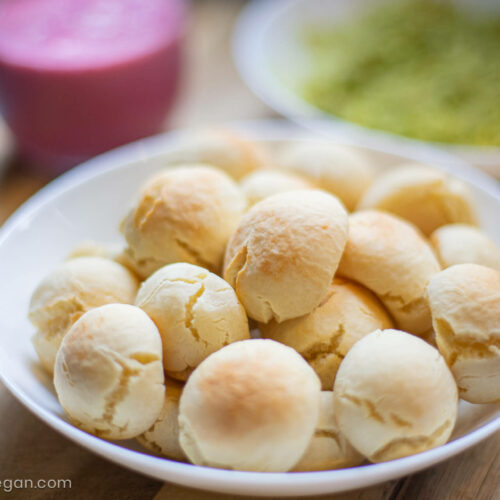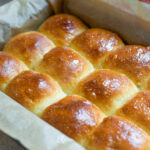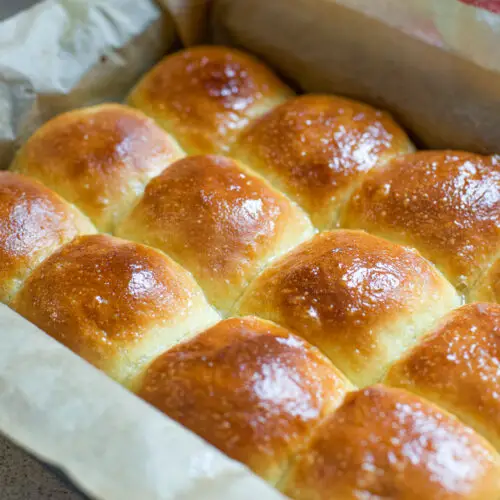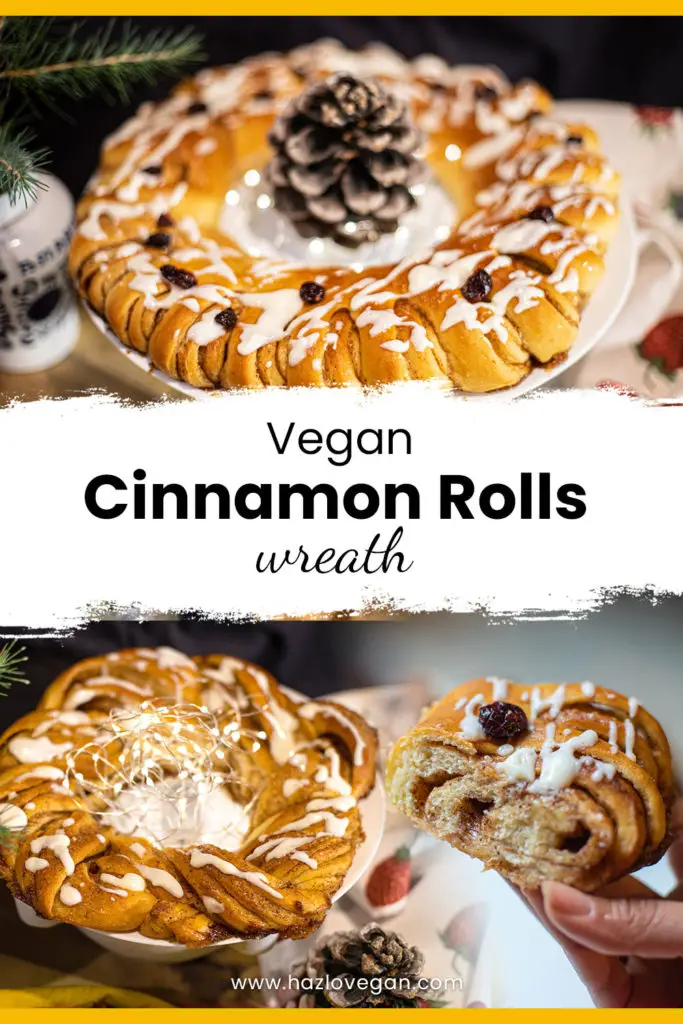 ---
Thank you very much for reading Hazlo Vegan, if you want to be up to date with the recipes you can subscribe in the form on the sidebar to receive them periodically in your mail, you can also comment and follow me on Instagram and Pinterest. If you make any of these recipes, don't forget to upload a photo to show the world what vegans eat, using the hashtag #hazlovegan and mentioning me as @hazlovegan to check them out.
This post is also available in: Español