This recipe could have affiliate links. For more information visit this link .
This post is also available in: Español
Homemade almond milk is one of the most popular variants of the plant-based alternative, and it has not gained its popularity out of nowhere. Almonds are the nut with the highest protein content after peanuts and are a source of nutrients, including calcium, which plays a very important role in bone health.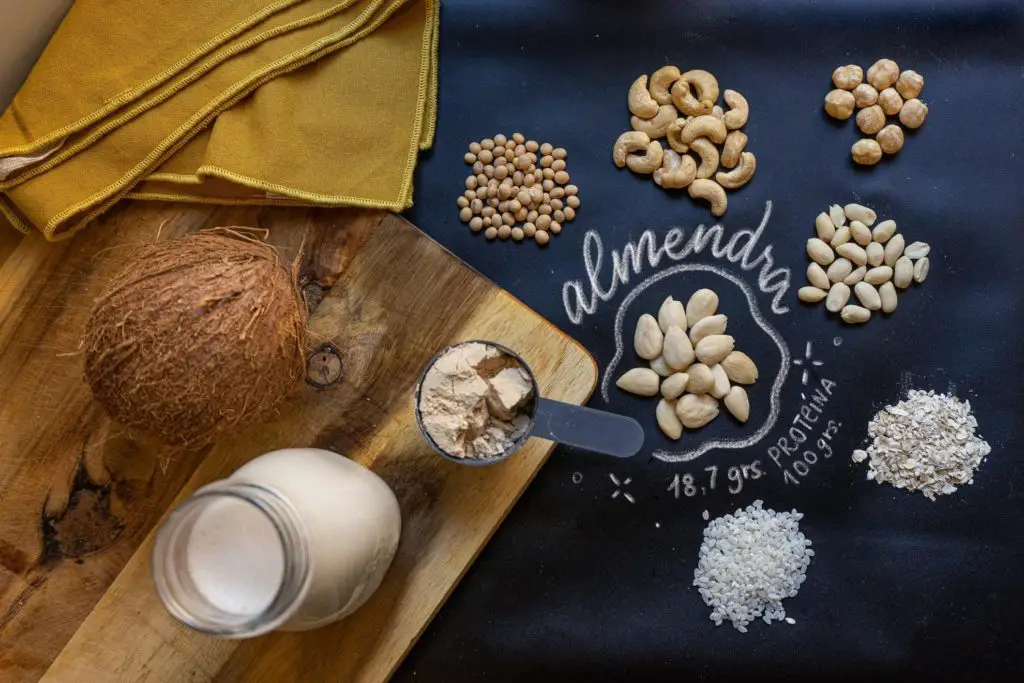 Its flavour, while not my favourite, is quite pleasant and very versatile in sweet preparations and very much appreciated for use in hot beverages, such as coffee and spiced tea.
We must pay close attention to the nutritional content of commercial almond milk, as it does not rescue practically none of the properties of this nut. Brands promote it as a "low calorie" drink but omit that it is also seriously low in protein and nutrients and cannot be considered a valid nutritional replacement for milk. It is basically opaque water, with added flavours, which do not even resemble the actual taste obtained by preparing it at home.
Equally troubling is the lack of accuracy in the information found in the top google results when searching for almond milk nutrition. I came across results that were way off the mark and that's why I decided to write this recipe. The only way to ensure you are consuming a reliable amount of nutrients from almond milk is to make it homemade and when possible fortify it and blend it with other nutritious ingredients, such as oats, flaxseed and chia, vegetable protein and fruit, in smoothies. This is advice from a person who wants you to stick to veganism and be responsible with your diet and nutrition.
Cow's milk has harmful effects on our health, our body only processes lactose correctly at the stage when it needs it, breastfeeding. After that, supplying our calcium requirements with milk from another living being is, to say the least, absurd. Let us never forget that the cow obtains all the nutrients present in her milk by eating exclusively plants and that these high-quality nutrients are intended exclusively for her calf, which is cruelly taken away from her at birth, causing her terrible pain and anguish. If you want to know more about how harmful and aggressive the milk industry is, you can read it here.
Is it worth making homemade almond milk?
Absolutely, yes, you will get all the nutrients back and it is quite easy to prepare like most plant milks. It is cheaper than cashew nut milk as it is a more common nut. It is preferable to look for local almonds, they have the least environmental impact and their cultivation is usually more natural and less harmful than the mass production present in the United States. If you live there, I'm sure it's possible to find organically grown almonds, but when that's not possible, using what's on hand is fine. Don't forget that you are making a difference, however small it may seem.
That's one of the reasons why I've decided that I'm never going to buy plant-based milks again, I'm going to make them at home and make them better, richer and more nutritious, without generating a single drop of waste and certainly much cheaper.
In this version of almond milk, you will get approximately 9 to 10 litres of milk from one kilo of almonds.
Let's get to know the ingredients to prepare this tasty milk at home:
Almonds with or without skin
Water
Unflavoured soy protein isolate (optional)
soy lecithin (optional)
Almonds with or without skin
The almond (prunus dulcis) is the seed of a tree of the same species as cherries, peaches and plums, found inside the heart of a hairy fruit (similar to a peach). It is cultivated in temperate zones in several countries, although the world's largest producer is the United States, followed by Spain.
There are many varieties, some more bitter, used for the production of liqueurs (Italian amaretto) and others sweeter, cultivated for consumption.
Another important fact about almonds is their excellent nutritional content. In 100 grams we find between 18 and 21 grams of protein depending on the variety, 49 grams of fat and 21.5 grams of carbohydrates, as well as fibre, vitamin E, calcium and minerals (magnesium, iron, phosphorus).
Not bad for a nut. And that is why it is far better to prepare almond milk at home from shelled almonds with or without skin, so as not to miss out on any of its benefits and nutrients.
Their protein content is not exactly the same as that of milk, which is something to keep in mind. That's why I choose to fortify my plant-based milks with vegetable protein isolate from soy, pea or a mixture of both, and very occasionally with calcium carbonate.
This way I don't have to worry about any deficiencies, even though nutrient requirements are different from person to person and case to case, I feel more comfortable getting mine consciously, rather than leaving it to chance. I recommend that you take your vegan diet very seriously and responsibly, just as we take animal rights seriously. Consult your doctor and nutritionist.
In the photo of this recipe I'm using skinless almonds, simply because I got them at a good price and it's great to be able to use them ground for a uniformly coloured flour, and thus use them in marzipan, macarons or vegan cheeses.
Unflavoured soy protein isolate (optional)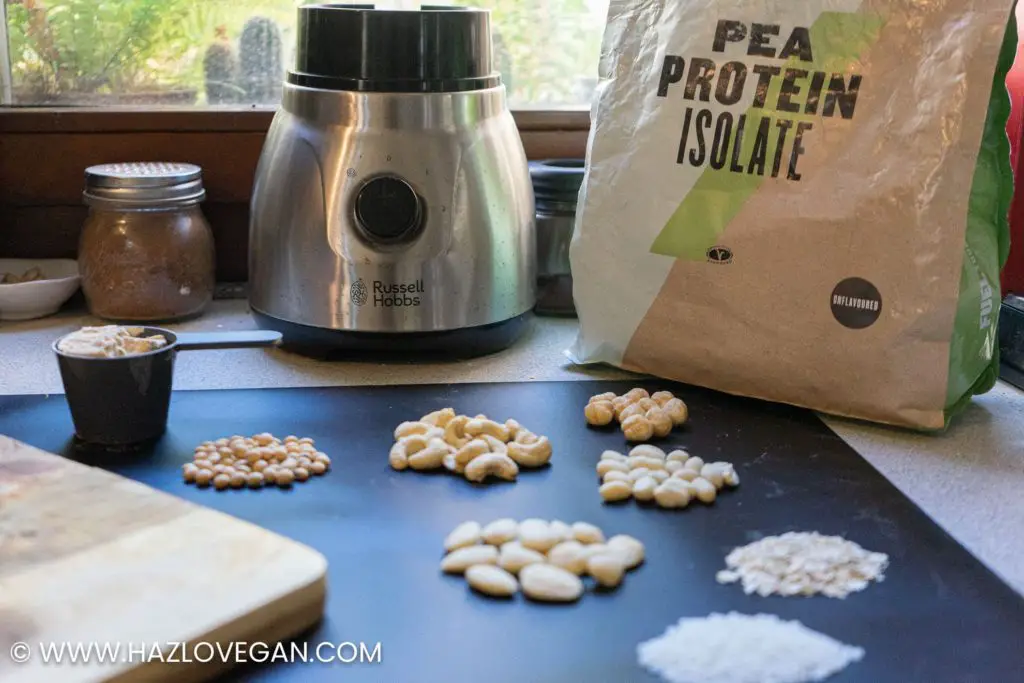 This ingredient is optional, but I recommend it to increase the nutritional content of our milk, you can add as little or as much as you want, but consider that it will modify its taste. 10 grams is a fair amount so that each glass of your almond milk contains 6 grams of protein, which will help you to more easily meet your daily nutritional requirements.
You can also add more almonds to the recipe for more nutrients, but this will also increase the amount of fat and carbohydrates you will be consuming in each glass.
The protein also has a consistency-related purpose. You will get an extra creamy milk and not a watery one like the ones you usually find in the shops. Perfect for frothing over your latte or cappuccino and making latte art, of course.
Where do I get vegetable protein isolate?
If you are in Spain or places where it is available I would automatically say, Amazon. Don't have the option? Look in vegan protein shops for athletes, there are several normal brands that have their plant-based versions. Only have vanilla? Well, vanilla flavoured almond nut milk sounds like a great plan, as does chocolate.
Soy or sunflower lecithin
This magical ingredient that has benefits for our circulatory system and brain, has a specific purpose in almond milk and any other vegetable milk. It improves the suspension of fat in water and prevents them from separating – no more cut up milk in your fridge!
Now let's get to the recipe: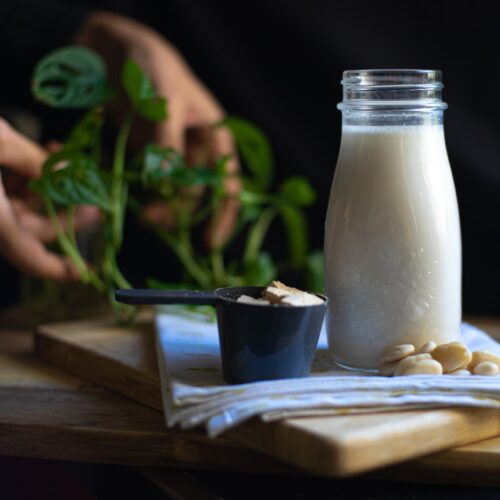 Leche de Almendras fortificada
Aprende a preparar en casa una versión mucho más nutritiva que las versiones comerciales de Leche de almendras.
Equipment
Gasa o tela de algodón para filtrar

Jarra o botella con cierre hermético
Ingredients  
108

grs

almendras con o sin piel

1

litro

agua fría

10

grs

proteína de soya aislada

Opcional

1

gr

lecitina de soya o girasol

Opcional

1

pizca

sal y endulzante
Instructions 
La noche anterior, remoja 108 gramos de almendras en agua fría durante toda la noche, si hace mucho calor, es preferible dejarlas en el refrigerador.

En la mañana enjuágalas y agrégalas al vaso de la licuadora con el resto de ingredientes y procesa por al menos un minuto dependiendo de la potencia de tu juguera. Lo importante es que todos los trozos grandes hayan sido molidos para extraer todos los nutrientes.

En una botella o frasco con suficiente capacidad inserta un embudo y sobre éste la gasa o tela para filtrar tu leche de almendras y viértela de a poco, exprimiendo de vez en cuando todo el líquido restante del afrecho. Esta leche se filtra fácilmente, ya que el excedente es arenoso y no tapa los orificios de la tela.

Tapar el recipiente y conservar en el refrigerador hasta por 3 días. No deseches el excedente de almendras, utilízalo en galletas, porridge o batidos. Contiene aún nutrientes y fibra beneficiosa para tu cuerpo.
Notes
Esta leche debe ser filtrada para consumirse, a menos que la uses en porridge de avena, porque deja una sensación arenosa en el paladar, que no es agradable para bebidas delicadas. Utilízala para reemplazar la leche en cualquiera de tus preparaciones cotidianas. ¡Te va a encantar!
Nutrition
Nutrition Facts
Leche de Almendras fortificada
Amount Per Serving
Calories 100
* Los valores porcentuales diarios se basan en una dieta de 2000 calorías.
I hope you liked this recipe, and that you enjoy it as much as I did. If you are just starting out in veganism, I hope it will help you discover that you don't need to harm any living thing to eat properly and deliciously.
Want to try other plant-based milks? Don't miss this recipe for reinforced homemade cashew milk:
Thank you very much for reading Hazlo Vegan, if you want to be up to date with the recipes you can subscribe in the form on the right bar to receive them periodically in your mail, you can also comment and follow me on Instagram and Pinterest. If you make any of these recipes, don't forget to upload a photo to show the world what vegans eat, using the hashtag #hazlovegan and mentioning me as @hazlovegan to keep me updated.
This post is also available in: Español